Join us at our regular Green Screens movie night and help us fundraise for the local government campaign just around the corner.
WHAT: The White Crow
WHEN: from 6pm, session starts 6.30pm, Friday July 19th
WHERE: The Palace Barracks, 61 Petrie Terrace, Brisbane
CLASSIFICATION: M
ABOUT THE MOVIE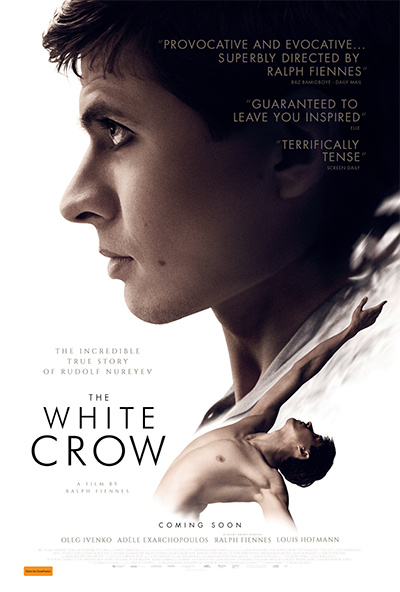 A young man of just 22, dressed in a black beret and a dark narrow suit, is on an aeroplane flying from St Petersburg to Paris. It is 1961 and Rudolf Nureyev, not yet the imperious figure of legend, is a member of the world-renowned Kirov Ballet Company, travelling for the first time outside the Soviet Union. Parisian life delights Nureyev and the young dancer is eager to consume all the culture, art and music the dazzling city has to offer. But the KGB officers who watch his every move become increasingly suspicious of his behaviour and his friendship with the young Parisienne Clara Saint. When they finally confront Nureyev with a shocking demand, he is forced to make a heart-breaking decision, one that may change the course of his life forever and put his family and friends in terrible danger. From Nureyev's poverty-stricken childhood in the Soviet city of Ufa, to his blossoming as a student dancer in Leningrad, to his arrival at the epicentre of western culture in Paris in the early 1960s and a nail-biting stand-off at the Le Bourget airport, "THE WHITE CROW" (Director Ralph Fiennes) is the true story of an incredible journey by a unique artist who transformed the world of ballet forever.
View the trailer here.
PLEASE NOTE: Tickets must be purchased by Monday 15 July, in order to meet the cinema's requirements for group bookings. WE APOLOGISE THAT WE ARE UNABLE TO SELL TICKETS ON THE NIGHT.
POST-MOVIE GATHERING
There will be an optional post-movie get together for food/drinks in a nearby bar. If you'd like to join us, please gather in the foyer after the movie and follow one of our friendly helpers.
For more information, contact email pine.rivers@qld.greens.org.au
Tickets:
| | |
| --- | --- |
| General Admission | $25 |
| The Keen Green | $50 – includes a glass of wine & a warm glow of righteousness |
| The Supreme Green | $100 – includes a glass of wine, aforementioned glow, and possibly a halo |
| Fundraiser Concession | $17 |
19th July, 2019 6:30 PM through 8:30 PM
61 Petrie Terrace
BRISBANE
QLD
4000
Australia
| | |
| --- | --- |
| General Admission | $ 25.00 |
| Fundraiser Concession | $ 17.00 |
| The Keen Green | $ 50.00 |
| The Supreme Green | $ 100.00 |