Join us at our regular Green Screens movie night and help us fundraise for the local government campaign just around the corner.
WHAT: Blinded by the Light
WHEN: from 6pm, session starts 6.30pm, Friday October 25th
WHERE: The Palace Barracks, 61 Petrie Terrace, Brisbane
CLASSIFICATION: CTC
ABOUT THE MOVIE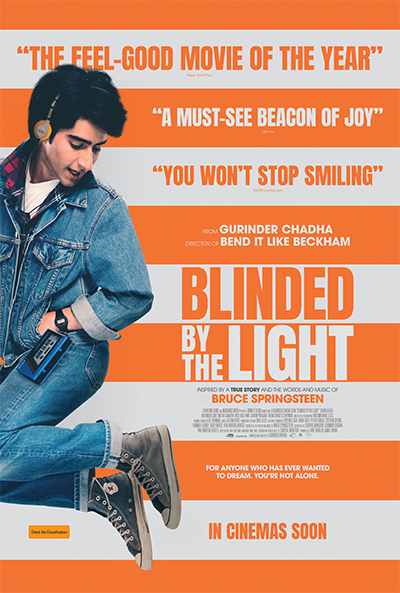 Blinded by the Light tells the story of Javed, a British teen of Pakistani descent, growing up in the town of Luton, England, in 1987. Amidst the racial and economic turmoil of the times, he writes poetry as a means to escape the intolerance of his hometown and the inflexibility of his traditional father. But when a classmate introduces him to the music of "the Boss," Javed sees parallels to his working-class life in Springsteen's powerful lyrics. As Javed discovers a cathartic outlet for his own pent-up dreams, he also begins to find the courage to express himself in his own unique voice.
Like a life-affirming rock anthem, Blinded by the Light hits familiar chords with confidence and flair, building to a conclusion that leaves audiences cheering for an encore.
View the trailer here.
PLEASE NOTE: Tickets must be purchased by Monday 21 October, in order to meet the cinema's requirements for group bookings. WE APOLOGISE THAT WE ARE UNABLE TO SELL TICKETS ON THE NIGHT.
POST-MOVIE GATHERING
There will be an optional post-movie get together for food/drinks in a nearby bar. If you'd like to join us, please gather in the foyer after the movie and follow one of our friendly helpers.
For more information, contact Lenore on 0411 032 676 or email mount.coot-tha@qld.greens.org.au
Tickets:
| | |
| --- | --- |
| General Admission | $25 |
| The Keen Green | $50 – includes a glass of wine & a warm glow of righteousness |
| The Supreme Green | $100 – includes a glass of wine, aforementioned glow, and possibly a halo |
| Fundraiser Concession | $17 |
25th October, 2019 6:30 PM through 8:30 PM
61 Petrie Terrace
BRISBANE
QLD
4000
Australia
| | |
| --- | --- |
| General Admission | $ 25.00 |
| Fundraiser Concession | $ 17.00 |
| The Keen Green | $ 50.00 |
| The Supreme Green | $ 100.00 |